In Ephesians 2:3 the Apostle Paul writes:
All of us also lived among them at one time, gratifying the cravings of our flesh and following its desires and thoughts. Like the rest, we were by nature deserving of wrath.
Or does he?
---
Welcome to 50-for-50. This post is part of a collection of 50 things I'm doing involving the number 5 to celebrate my 50th trip around the sun. Over the next year, I will highlight 50 things from the Bible that have most shaped my thoughts on faith and life. You can read all 50 Bible reflections here or sign up for a full 50-for-50 weekly recaps here.
---
The Life I Lived
For years, the NIV translation of Ephesians 2:3 sat central to both my theology and my self-understanding. Even when I shifted to other translations, like the ESV which describes us as "children of wrath," the message seemed clear: we are all born hopelessly lost and deserved God's rightful wrath for our innate sinfulness.
Now, if you believe that and take it to heart, it will fuck you up.
For me, it fueled a few different responses:
all-consuming shame
the belief that childhood abuse and bullying was deserved
a quick dismissal of harmful behaviors because, well, what else can you expect from someone born deserving such wrath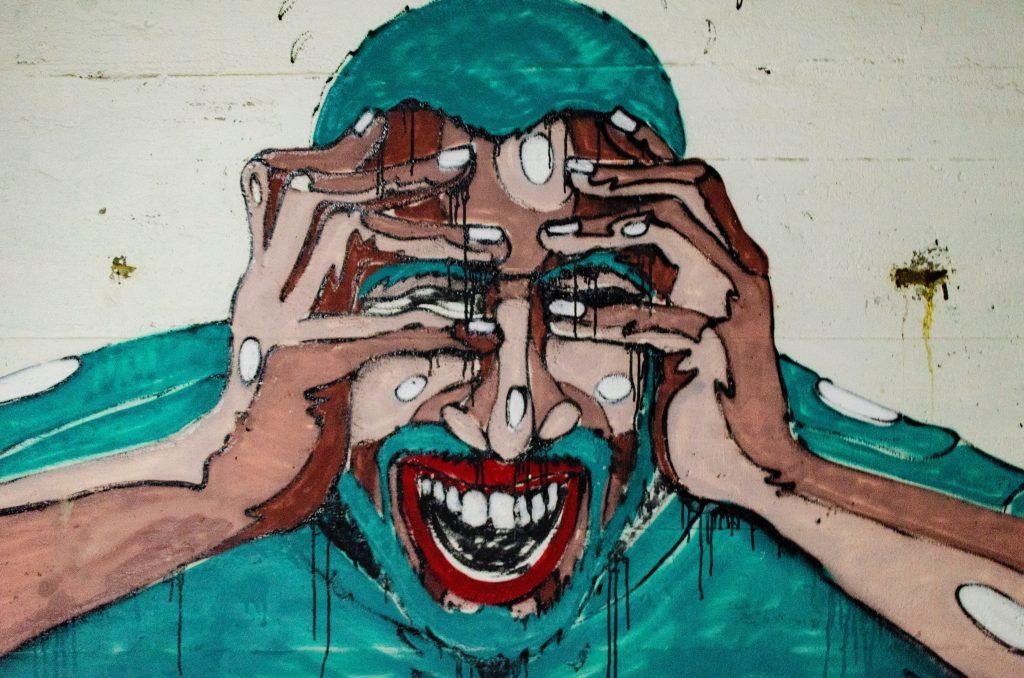 Even the supposed release from God's hatred of you is rather messed up. It involves God unleashing divine wrath on Jesus through the crucifixion so God can forgive you and welcome you into eternity. Otherwise, you get to experience an eternity of divine wrath in hell.
That's right, you suck so much God had to torture Jesus in order to love you.
But is that what Paul meant?
Ephesians 2:3 in the Greek
In October of 2015, I attended a church service at Denver Community Church where Michael Hidalgo first introduced me to a textual nuance that has been nothing short of life-changing. It is something, as far as I can tell, that he picked up from the late Stanley Grenz's book, "Theology for the Community of God" (affiliate).
In it, Grenz points out that there are two potential sources of wrath. One is God and the other is us. So, where the ESV translates Paul as, "children of wrath," it could just as easily read, "wrathful children." In the NIV, it would move things from, "we were by nature deserving of wrath," to, "we were by nature wrathful."
But which translation of Ephesians 2:3 is right? Here the history of theology proves helpful.
Salvation in History
I will admit that this history is hyper-simplified, but it covers the main strokes of mainstream Christianity's understanding of salvation over the centuries. There is a far more detailed history in chapter 5 of "Recovering the Scandal of the Cross: Atonement in New Testament & Contemporary Contexts" (affiliate).
150 to 1100
Irenaeus of Lyon had two dominant ideas going on when it came to salvation.
One centered on recapitulation through Jesus' Incarnation (birth as a human). He largely saw Jesus' birth as triggering the spread of divine righteousness to all humanity.
He, along with Gregory of Nyssa, also had a strong ransom theme in his understanding of the death and resurrection of Jesus where the devil took humanity hostage and God paid the ransom price of Jesus' life. This view is what C.S. Lewis presents in, "The Lion, the Witch, and the Wardrobe" (affiliate) as Aslan gives his life for Edmund's.
It is important to notice here that, in both models, God is entirely redemptive and never wrathful.
1100-1530
After owning the salvation game for the first 1,000 years of Christian history, a focus on Christ's victory over the forces of evil fell out of style and people began asking questions about why God became human in Jesus. Two of the more popular ideas that rose came from Anselm of Canterbury and Peter Abelard, who offered an alternative to Anselm. Sadly, Anselm won and Abelard was excommunicated.
Anselm's model, as expressed in his book, "Why God Became a Man," reads the Bible through the lens of feudal society. In it, God is the local lord and people are surfs. Just as a surf offending the lord requires payment to restore the Lord's honor, so our sin requires a payment to God. Because we could never offer a worthy tribute, Jesus does for us.
It is important to notice here that God is offended and dishonored, but not wrathful.
1530-1875
With Martin Luther and John Calvin, the framework used moved from feudal society to a courtroom. Here the divine takes the role of the judge, people are the plaintiffs, and sin is the crime. While the judgment is that we are guilty, Jesus takes the punishment in our place.
Once again, God is not wrathful, but God is retributive, where (at least according to the model) the punishment fits the crime.
1875-Today (at least in the USA)
One of the leading theologians of 19th Century America was Charles Hodges, and it is through his writing that divine wrath towards sin finally takes center stage in popular Christianity.
Here human sin becomes so vile to a holy God that God can no longer draw near human beings until all of God's just wrath is unleashed on Jesus.
Translation As Interpretation
Because the Bible was written in different languages with different grammatical rules, every translation is a first level interpretation. The NIV translation I grew up with, which is also the best selling translation in America, was commissioned by two groups deeply influenced by the work of Charles Hodges. No wonder their translation lacks room for debate about who is wrathful in Ephesians 2:3.
The Life I Live
Today, there is no doubt in my mind that we are the ones who are wrathful. Perhaps this is a consequence of the shame that comes with the Fall. Or maybe it is because we don't feel seen, known, or loved. We might be wrathful towards God because we want our enemies to be punished. Then again it might stem from the pain of being born. Whatever the reason, God, in Christ, invites us from our wrathful existence to one of peace that surpasses understanding. It is truly an invitation that moves us from a living death to life.
---
Note: I realize this is not the only text in the Bible where we can see God as wrathful, it just happens to be the one that most impacted me. Changing the way I read this one verse helped reshape the way I approach all of Scripture.