Last week closed with a quote from Swiss philosopher Jean-Jacques Rousseau: "When the people shall have no more to eat, they will eat the rich!"
Given the spiritual nature of this site, this might seem somewhat out of line. Even if you buy into my argument that spirituality isn't spiritual, eating the rich does not sound very loving. So before we explore how to eat rich fools, we need to take a moment to reflect on how to be loving to rich and poor alike.
Loving Rich Fools
Once again, let us return to the first cosmological myth of Genesis and the idea that nothing is evil. There I argued that nothing is not the absence of something but the absence of purpose. In the first Genesis creation account, God is not making stuff, rather God is giving things purpose. This includes day and night, land and sea, and everything that inhabits the earth.
Consequentially, this means the account is not a one-time event that happened thousands of years ago or even something that happened over a few thousand years but is what happens throughout history. You, today, right here and right now, are being created. You are discovering your purpose and coming to recognize your belonging. Often, this involves the hard work of healing from the things that assaulted our sense of belonging. This is one reason I argue for reparations. It brings an end to a longstanding assault on belonging and allows an entire segment of the population an opportunity to heal.
In this framework, I would argue that rich fools are fools because they are struggling to find belonging. They believe that gaining wealth at the expense of others gives them significance, value, and purpose. This is why they constantly seek to justify their excess while so many go with so little. This is the very core of meritocracy.
Therefore, the most loving thing we can do for rich fools is tear down the delusion they built their lives on so they can discover their inherent worth as children of the divine. This is also the most loving thing we can do for everyone else because the foolishness of rich fools assaults the dignity of the masses.
With that in mind, how do we eat rich fools?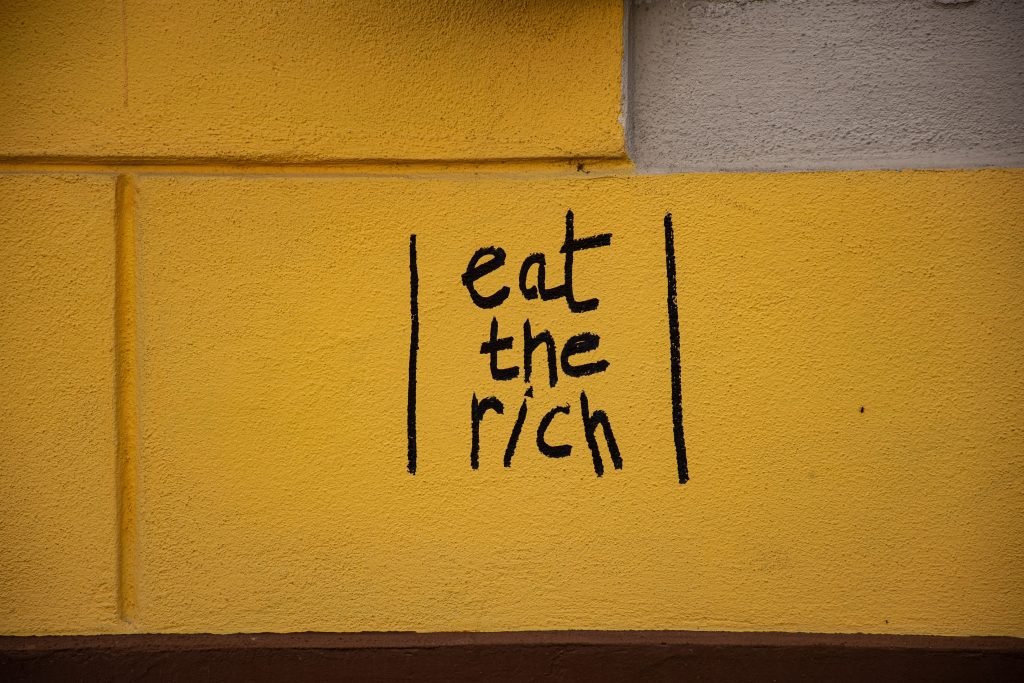 When the Rich Serve Themselves for Dinner
One solution involves rich fools realizing that they are in fact, rich fools. When this happens, they are quite likely to serve themselves for the good of others. This is not about charity (we will explore why that does not work later), but honoring the dignity of labor. This is the story of Dan Price, CEO of the credit card processing company, Gravity Payments.
In early 2015, Dan was a rich fool. He took an exorbitant salary from a company he confounded with his brother but saw it as ok because he was a job creator. Then he started hearing the stories of his employees. He realized they lost hours a day on long commutes from the neighborhoods where they could afford to live. They talked about dreams of buying a home or having a child, but their inability to do so given their current financial situation. They put off medical care because they couldn't afford insurance deductibles.
What Dan believed politically at the time does not matter. His approach to business was bad for both his employees and their families. The only person it served was him. He was a rich fool.
While there are arguments about the purity of his actions, Dan cut his salary by a million dollars and raised the minimum wage at Gravity Payments to $70,000 a year. Today, every employee also has the choice to work remotely. Over the past six years, the company's value tripled and the customer base doubled as attrition dropped. Moreover, employee homeownership and the number of employees having children grew tenfold. 70% of employees now live debt-free.
Dan Price, with a net worth of somewhere between $800,000 and $1,000,000 is still rich. But he's not a fool, because he served himself for dinner. Sadly, he is a rare example in today's undignified America. So what can people who embrace the spirituality of Jesus do to help eat the rich?
Work the Current System
The free-market crowd argues that the market sets wages. If somebody will work for less, then the pay should be less. Never mind that the is always some desperate enough to work for less because, in their mind, something is better than nothing. Nonetheless, this system can be used against the rich if people refuse to work for undignified wages.
The Covid lockdowns had a shocking side effect. Many people realized just how much their job sucked. They realized that they enjoyed time with their families. It felt good to work on projects around the house. There was a mass discovery that being treated poorly all day just to come home exhausted for an insignificant paycheck is not worth it. Thus the Great Resignation where, rather than going back to work, 3.4 million Americans (to date in 2021) quit their jobs. Seeking to fill positions due to labor shortages, many employers have had to improve conditions.
For those who have the option of a union, today labor strikes abound. People, reject decades of exploitation, refusing to work for undignified wages even after Covid induced unemployment benefits end. But that alone will not correct the foolishness.
Change the System
I would argue that we need to end for-profit healthcare. No major medical breakthroughs were paid for by the research and development of Big Pharma. All of their advances are based on government funding. So taxpayers pay Pharma to develop life-saving medicines and then pay them to save our lives. The extortion needs to end and will not only dramatically cut the overall costs of healthcare, but make it available to everyone and allow medical professionals to focus on the health of their patients rather than sickness management. Such a move would also make life easier for small businesses owners who have to compete with corporate benefit packages.
In addition, I would argue we need to undo decades of exploitation through taxation. This is not about taking what is earned, but reclaiming what was taken. That said, the actual implementation of taxes is important to make sure it doesn't adversely impact people struggling to survive.
In our current system, Warren Buffet famously has a lower tax rate than his secretary. Elon Musk lives off of loans where he uses businesses as collateral making it non-taxable. Jeff Bezos made so little a couple of years ago he got money back as part of a child tax credit.
For those who want to dig into the weeds a bit, my thoughts include:
A one-time wealth or inheritance tax as a corrective to current inequity.
Raise the standard deduction to $100,000.
Start counting capital gains as income.
Implement Reagan economist Milton Friedman's idea of a negative tax to functionally establishing a universal basic income.
Eliminate sales tax on all essential items for daily living.
And that only addresses the taxation of individuals. Corporations have an entirely different set of rules and tools they use to avoid paying taxes and they are sitting on trillions of dollars just to boost stock prices and accumulate more wealth.
Change Who Makes the Rules
But, none of this will happen until we eliminate corporate money from politics. Until then, we might vote in our representatives, but the corporations whom both pay for their campaigns and offer them cushy lobbying jobs on the other side of office will remain their constituents. We will remain a society of, by, and for the rich fools.
This is not about partisan politics. It is about political choices that love your neighbor by advocating for a society that demonstrates their dignity.
Further Exploration
Podcast: Dan Price on Krystal, Kyle, and Friends
Did the story of Gravity Payments CEO Dan Price catch your attention? Here is his story in his own words.
Podcast: The Problem With Our Not-At-All-Free Market on The Problem with Jon Stewart
Last week I shared a podcast where Jon Stewart interviewed Jamie Dimon. In the interview, Dimon, a rich fool, told Stewart he was wrong. In this follow up episode, an economist argues that is not the case. If this makes you want to find out more about Modern Monetary Theory and deficit spending, I would suggest, The Deficit Myth.
Book: Capital in the Twenty-First Century by Thomas Piketty
Are you wanting to take a deep dive into the weeds? Economist Thomas Piketty lays out his argument that we are functionally on our way back to a plutocracy (rule by the wealthy) based on inherited wealth … with the United States is leading the way.
Action
What is one small bite you can take this week that will help nibble on a rich fool?
What's Next?
I will address a question I brought up in this post, namely, "Why doesn't charity work?"