Part of Abundance Reconstructed is a (small but growing) radically inclusive community for spiritual misfits on Discord. To be clear, being a misfit is a good thing! Misfit reject what is wrong in our world (religious, political, corporate). They are committed to learning what it means to live differently. This cuts to the core of a healthy holistic spirituality.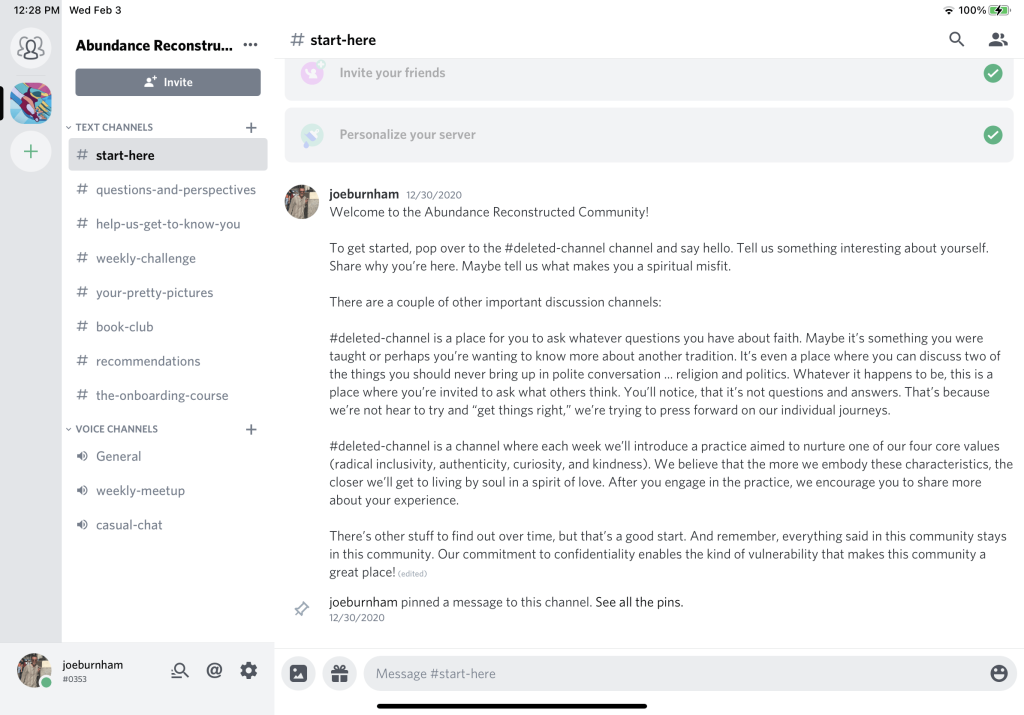 Some of the channels on our Discord server include:
Questions and Perspectives: Why perspectives instead of answers? Because we are more interested in wrestling with ideas than being right.
Weekly Challenge: Each week we engage in some kind of practice designed to nurture one of our four core values. Our values are radical inclusion, authenticity, kindness, and curiosity.
The Book Club: For those wanting to dig deeper, we read and discuss books about the four values.
The Discord App
If you are not familiar with Discord, here is a brief introduction:
How to Join the Community
The Abundance Reconstructed Community is currently free to join. For those who join while it is free, it will remain free.
To request entry, use the contact page to share the following information:
Introduce yourself.
Explain why you want to join the community.
Tell us what the four core values of radical inclusivity, authenticity, kindness, and curiosity mean to you.
Commit to keeping everything said in the community confidential.
Please share the soul & spirit: